The Twentieth Century

In 1906 the family welcomes the birth of their baby girl, the first-born out of 11 children. A sign of a much sought-after family prosperity along with the industrial prosperity.
In 1912 the family is among the first in the whole of Italy to start the mechanisation of its brickworks. Among the new machinery introduced, they particularly prided themselves on their 18-chamber Hoffman kiln.
War soon breaks out and between 1915 and 1918, part of the company is requisitioned and transformed into a garrison.
At the end of the war, a new important phenomenon of expansion begins. The family buys the third brickwork in Tarcento and later a colony in Aquileia and San Daniele. The agroindustrial production undergoes a remarkable development, for this reason production of cured ham (prosciutti) starts.
The family's true strength, Sante's pride, is ever more employed in various activities: it's his children, accurate disciples respecting the family tradition and strongly motivated in making their industrial activity grow.
The unexpected events of the Second World War hit hard.
Not only the landed properties in Tarcento and partially in Majano are occupied by German troops, but the family members are involved in first person.
Piero De Mezzo, born 1910, began working with his father Sante at a very young age, while he studied and worked at the same time, and got his degree in Economics at the University of Triest.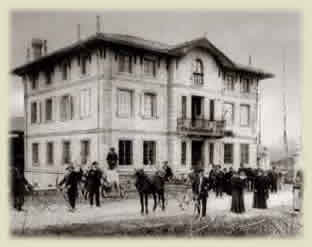 He was member of the board of directors within the Association of Industries, and also among its founders; since 1951 until Sante's death, he took over the management of the family trade.