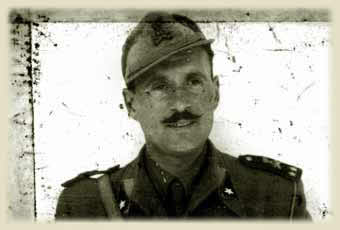 Pietro De Mezzo
The extraordinary story of Pietro De Mezzo
Born in Majano in 1910, he was educated by his father both as his school studies and work are concerned. His father, was a strenuous and brilliant Friulian man who had emigrated to Romania, and had there excelled thanks to his qualities of building manufacturer, gaining also success in the economy. Once back in his homeland he established two industries respectively: brickworks and liqueur distillery at Majano and Tarcento.
Pietro De Mezzo, graduated in Economics at the University of Triest, and entered at a very young age his father's industries, to which he dedicated his intelligent and precious work, this becoming, at his father's death, the natural and competent successor.
An Artillery Officer, he was recalled for service at the outbreak of war, and subsequently sent to northern Africa in the most heated zone where he took part with the Trento and Triest Division as well as with the Divisione Folgore to the fights in El Alamein.
Thanks to his courage he was decorated with the German military cross by General Rommel himself and with the Italian medal for military valour.
As soon as he came back to his fatherland, he was captured by the Germans, was sent to several concentration camps - Meppen, Versen, Przemysl, Hammerstein -, and it was here that Piero De Mezzo gave proof of his civil and military virtues.
His fellow mates, many of which were Friulian like himself, began to value him for his strength of mind, his faith and his absolute commitment to noble ideals. So they loved him, their fellow sufferer, an example for all of a strong faith in those moral values that he defended with dignity and indifference to danger.
It may be reminded that in his group of 120 prisoners, 119 refused to submit to the flattery of the Germans who pressed them to accept entering the ranks, which would then fight against the Italian brothers.
On top of this, he was brought to Italy by two German armed guards, together with his co-prisoner brother Alberto. He was offered freedom if he would accept engaging in counter-espionage. He disdainfully refused the proposal and entered the concentration camp of Hammerstein, where finally after two years his suffering stopped when he was freed and war came to an end.
Once back to Italy, he resumed his task as manufacturer with great commitment, and managed to repair the damages in the Majano and Tarcento factories caused by war, thanks to his constant, tenacious and intelligent work.