Today
As soon as war had finished the De Mezzo started a remarkable patronage, employing the brickworks also as a first-rank art studio out of which many creations of one of the most famous friulian sculptors of the Twentieth century came: Antonio Franzolini.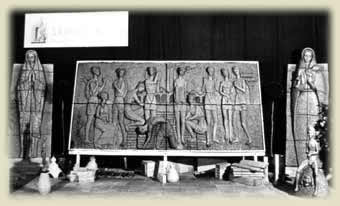 Some works by Antonio Franzolini
In the sixties the distillery was remarkably extended: the present building was added together with a new distillation plant, yet respecting tradition.
In 1976 the production of bricks comes to a halt and in 1990 the fourth generation of the De Mezzo becomes fully operative.
In 1996 celebrations for the centenary of the distillery De Mezzo s.n.c. were organised. The summer solstice is the of the traditional rites of the night of San Giovanni, a sacred night for the local farmers.
Plays, musicals and scenery of young and worthy friulian artists are presented. Hopefully these dates will become regular appointments for other new proposals.
In order to ensure product and quality optimisation , a new distillation plant and a bain-marie distillation plant were installed in 1998.
Since 2000 Mercedes De Mezzo Distilleries S.r.l. acquires Comar Distillery in Gorizia and enters the new millennium.